BUGGY Birthday Parties
Parties are offered over Christmas Break, Spring Break, and all of the Summer months. You'll be able to sign up during those times. Offered at 10:30 AM and 4:00 PM Saturday and Sunday.
Online

sign up only.

Add some fun, excitement (and education) to your child's special day! Have your next party at the BUG MUSEUM!

If your child is fascinated with insects, he or she will be delighted with the Bug Museum's BUGGY Birthday party program!

We offer a 45 minute Buggy Show and then you get the Party Room for 1 hour.

Participants will get the unique opportunity to see, hear, and even touch and hold some amazing LIVE insects from around the world. The hands-on, interactive nature of the Buggy Birthday Show is ideal for small birthday party audiences of up to 30 people (including adults).

Your birthday child will be named "The Official Bug Helper" and will carry the insects and show them off to his or her friends. Everyone will get to touch, hold or pet most of the insects (if they so desire). Your child will be the center of attention as he or she shakes hands with a tarantula, caresses a cockroach, and "trains" a stink beetle to "play dead."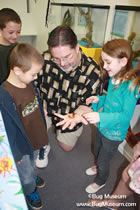 Children are allowed to hold many of these insects. None of the insects at the presentation sting, bite, or transmit disease. All insects have been reared inside a lab, so they are clean. We do have hand sanitizer at the exit of the museum.
Please make sure you have enough adults with you to attend to children at all times.
Our party room is made available to your group for 1 hour where food or cake can be served. On nice days we will have an outside canopy and seating area set up for use in addition to the room. Your total time is 1 hour and 45 min.
We provide a free caterpillar for each child.
We provide paper plates, cups, napkins and utensils.
Customer is responsible for food, drinks and birthday cake.
Birthday Party Fee: $200
Offered at 10:30 AM and 4:00 PM Saturday and Sunday.
Have questions? Send us an email.
Additional Party Idea:
Photographer for entire Buggy Birthday: $40