Touch-a-Bug Workshops
Coming Soon
$10 per child, parents come for free!
Fun and Educational! Kids won't even realize how much they are learning.
This fun, educational and hands-on tour is for people of all ages. Learn about the importance, beauty and diversity of these special and amazing insects. We help a lot of people overcome their fears about these misunderstood creatures in a fun and interesting way. This casual, small-group program ensures that everyone hears and sees it all – and touches a bug (if they want).
Workshops typically last about 45 minutes and includes:
General info about insects
Reasons why insects are good
Reasons why not all insects are good
Ways that insects survive in a world full of predators
Ways insects communicate with one another
Live insect presentation
Your Bug Expert will present several LIVE insects:
Madagascar Hissing Cockroaches
Stick Bug
Tarantula
Preying Mantis
Children are allowed to hold many of these insects. None of the insects at the presentation sting, bite, or transmit disease. All insects have been reared inside a lab, so they are clean. We do have hand sanitizer at the exit of the museum.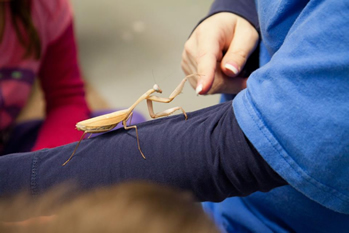 Have questions? Send us an email.