FREE BUG & REPTILE MUSEUM
Fun For the Whole Family, and it's FREE
Open from 10 AM to 5 PM everyday.

FREE FREE! Come kick off your Halloween at the Bug Museum.
Oct 31 10am -7pm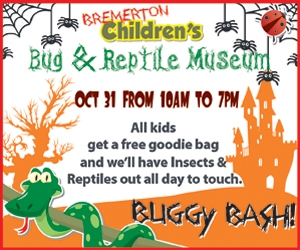 We've decorated our space to accommodate the fun, creepy-crawly holiday. You can touch a bug or reptile throughout the day, plus each child will receive a FREE Halloween goodie bag while supplies last! Make sure to stop by and help us celebrate our favorite holiday.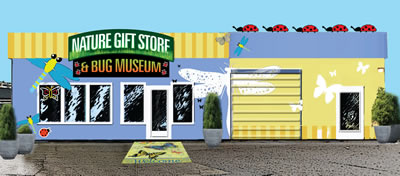 Visit us at 1118 Charleston Beach Rd W, Bremerton, WA 98312. Across from the PSNS shipyard and next to Cliffs Cycle. E-mail: help@bugmuseum.com
See our cool LIVE bugs, explore bizarre bugs under the microscope, look through glasses that let you see like a bug, and even watch busy ants in our giant 8 foot long Ant Farm! We have the weirdest and most interesting bugs on display for you to see up close. Over 15 kid friendly exhibits to explore.
See fascinating LIVE

Reptiles

from around the world UP CLOSE AND PERSONAL and learn about them.
See our extensive insect collections.